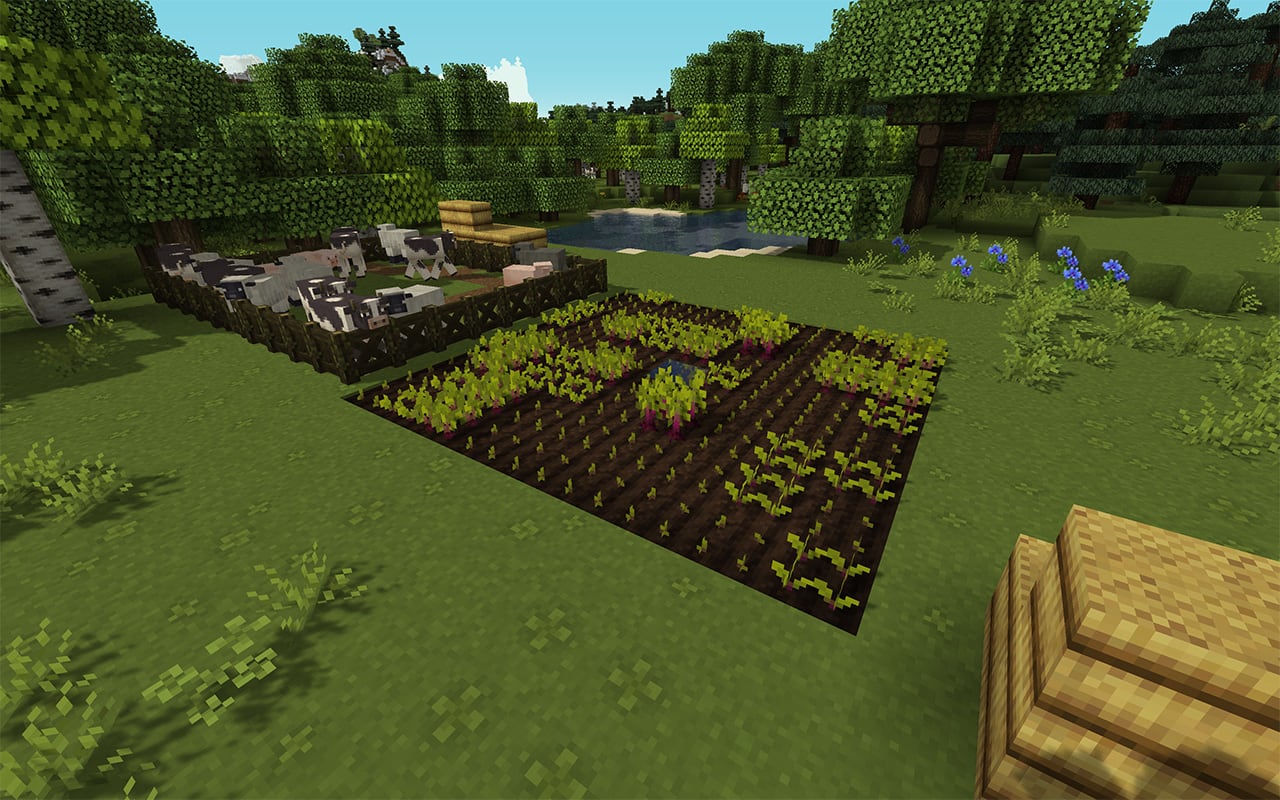 In Minecraft, you'll need a constant stream of resources to craft items and maintain a source of food. There's no better way to provide that than setting up your own farm. In this series of steps, we'll explore how to set up a simple and small farm that provides most of everything you'll need in the early stages of the game.
Planting Crops for Food
One of the first crops you can plant in Minecraft is wheat. You can grow wheat from seeds and those seeds can be easily collected by harvesting grass, which grows in most biomes above ground. Just run around clicking on grass for a few minutes and you'll have plenty of seeds.
The best way to organize your farming plot is in a 9×9 grid with a single block of water dug in the middle. That's because crops grow best when planted in irrigated spaces, and a single block of water will irrigate all farm plots up to four blocks away.
Just dig a hole and fill it with water using an iron bucket. Then plant your seeds in all of the squares in your grid. You'll be able to plant up to 80 seeds this way.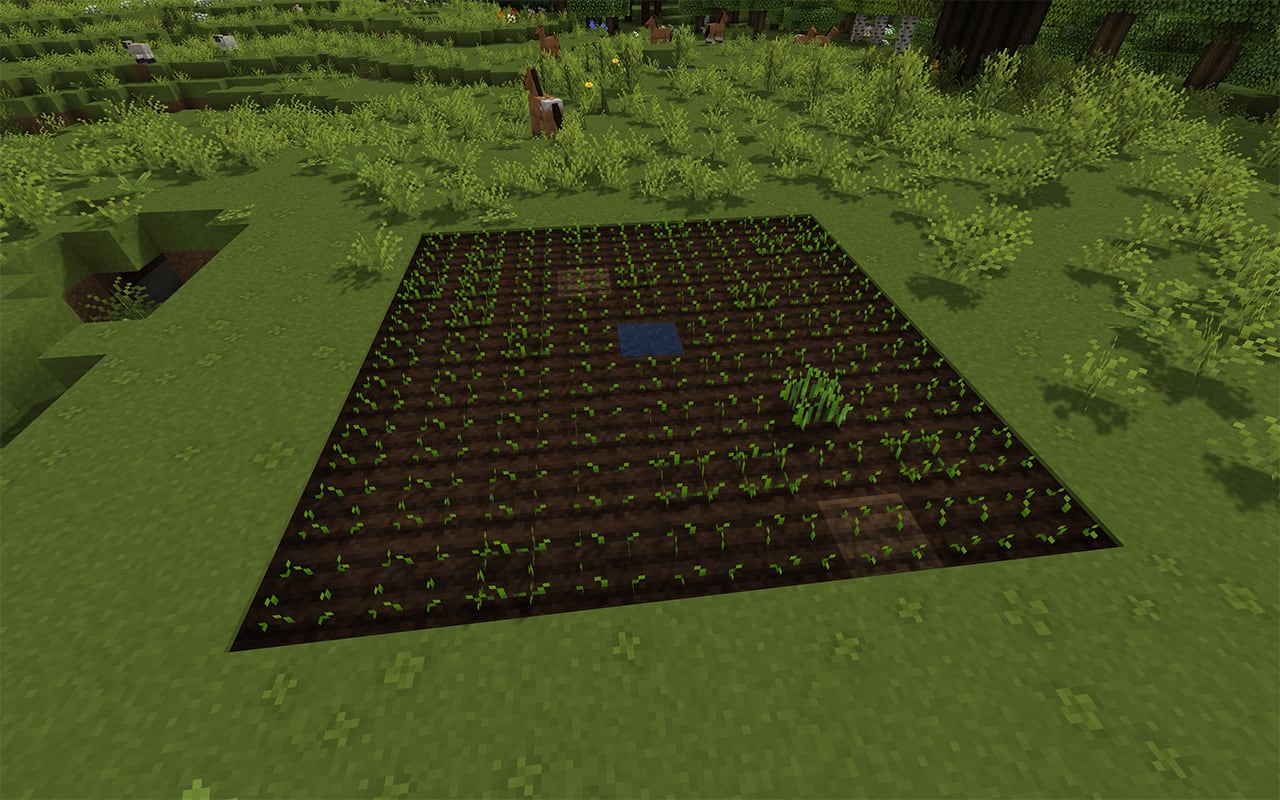 You can plant many more crops than just wheat, but first you'll need to obtain the seeds. The best place to get different seeds is from farms in nearby villages. When you locate a village in Minecraft, it will have at least one or two small gardens, usually with a variety of planted crops that can include:
Beetroot
Carrots
Potatoes
Pumpkins
Melons
Taming and Raising Animals
Your farm will be even more useful if it includes animals, and there are plenty that you can tame and raise in Minecraft. Some of the easiest animals to include on your farm in the early stages of Minecraft include chickens, pigs, cows, and sheep.
It's best to put your tamed animals inside an enclosure. The most popular type of enclosure is a wooden fence. You just need to make sure you install a wooden gate somewhere along the fence so that you can get in and out yourself. Another alternative is to use stone or dirt blocks to form a wall, but you'll need to make the wall at least two blocks high to prevent the animals from climbing out.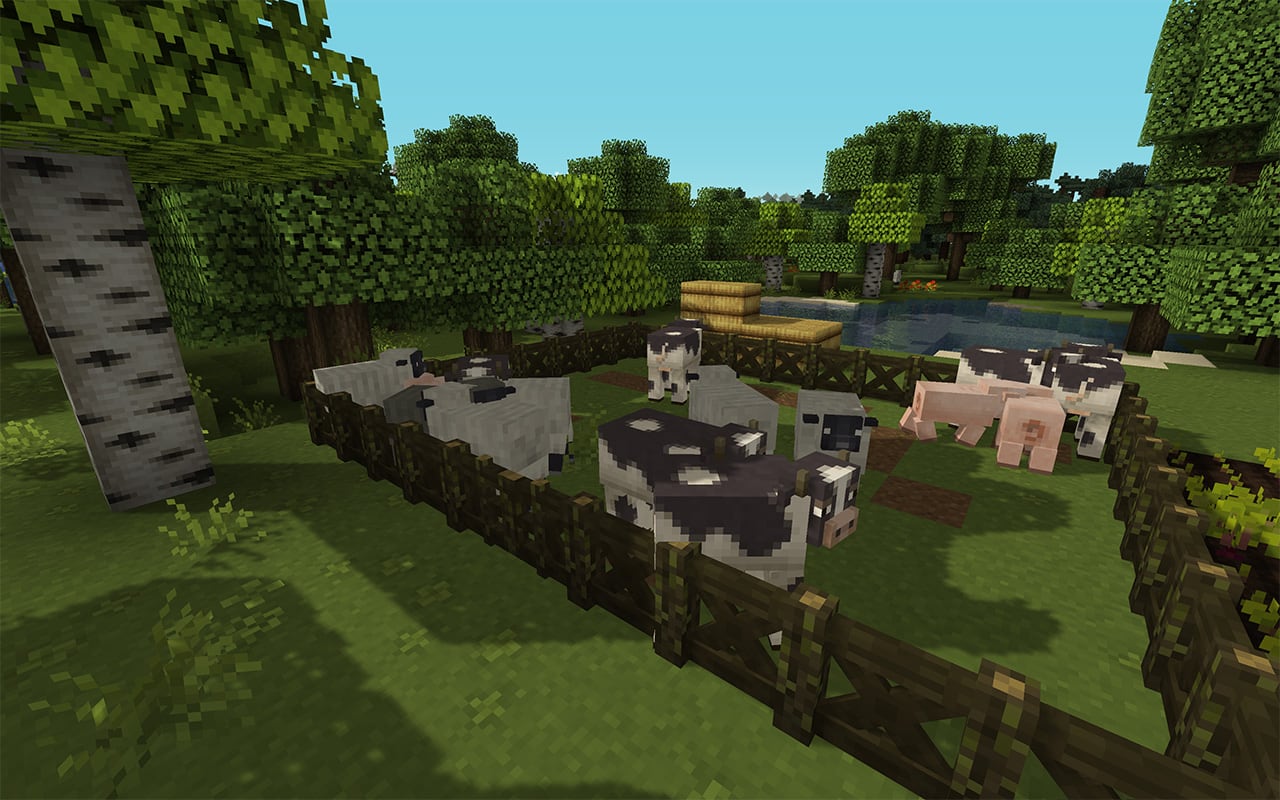 Animals don't need to be fed to survive. They'll be quite content inside their enclosure. But when you want to increase your livestock through breeding, you need to feed them. Simply equip the food (for example, wheat seeds for chickens) and then right-click on two adult animals. Little hearts will form above their heads and soon, a baby animal will appear.
Food needed to breed different animals in Minecraft
| Animal | Food |
| --- | --- |
| Chicken | Seeds |
| Cow | Wheat |
| Pig | Carrots |
| Sheep | Wheat |